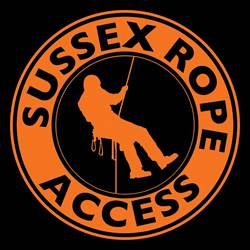 Fall Arrest Protection Systems
Sussex Rope Access provide a complete range of fall arrest, restraint and protection services including site surveys, system design, installation, testing and maintenance.
The Systems we install are the 'best-of-class' from the leading manufacturers.
The protection of workers at height is both a legal and moral responsibility and we will recommend the type of fall protection system most appropriate to your level of risk.
Call us today on 0800 1588 318
Fall Arrest, Restraint or Protection ? The Difference…
Fall Protection is where a person is prevented from falling in the first place (eg by a guardrail)
Fall Restraint allows the person to move freely but not far enough to fall (known as a 'Mansafe' system)
Fall Arrest involves the safe stopping of a person already falling (using eyebolts and appropriate cables)
British Standards for Fall Protection / Fall Arrest
Without exception, the key to a safe and secure fall protection system lies in the anchoring mechanisms used. The anchor devices are categorised by BS EN 795 as follows:
Class A1 Single Point Anchors –  e.g. SafeRing and PushLock Eyebolts
Class B Temporary Anchors – e.g. tripods and cross beams
Class C Horizontal Flexible cable systems – e.g. ManSafe
Class D Horizontal Rails –  e.g. abseil track
Class E Dead Weight Anchorages – e.g. Free-standing Constant Force Post
These British Standards (and equivalent Euro Norms) are produced as best practice guides for safety at height. It is not mandatory to adhere to the specification contained within British Standards and Euro Norms; however, in the event of a 'failure', any departure from them could be used against a business within a criminal prosecution or civil action.
Health and Safety Responsibility
Organisations that fail to take responsibility for health and safety can be subject to criminal prosecution and/or civil action.
Employers have a legal, moral and financial imperative to ensure they safeguard the health, safety and welfare of people that may be affected by their activities.
The responsibility includes the employer's own employees, the employees of contractors that may be engaged in activities on their behalf and third parties.
Despite considerable legislation having been produced over the years, the basic guiding principle is that a duty of care exists. Every effort must be made by all concerned parties to prevent incidents and accidents.
This responsibility cannot be reduced by ignorance or, more commonly, by attempting to pass it on to another party.
We have the expertise and experience to advise you on the appropriate requirements for your situation.