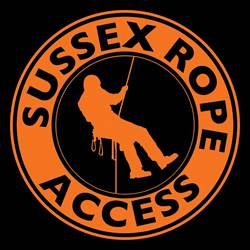 Eyebolt Testing & Certification
When an eyebolt testing company carries out an inspection and issues a certificate, that company is effectively confirming the eyebolt installation as being fit for purpose.
Sussex Rope Access technicians are qualified to carry out eyebolt testing  and certification to BS 7883:2005
The importance of the safe installation, inspection and testing of eyebolt systems cannot be underestimated.
Call us today on 0800 1588 318
Eyebolt Testing & Certification
The British Standards for Eyebolt Testing
BS 7883 :2005 states that, in addition to removing the eye bolt to check for corrosion wear or other defects and testing to  6kN, the installation must be checked, as far as possible to see that it complies with all the requirements of BS 7883:2005.
This is not a new requirement. BS 7883:1997 required, in section 12.2, that the examining body certify that the installation was in accordance with the code. Many existing installations will not comply in one way or another either because of new requirements of BS 7883 or because of bad practices carried out in the past.
There are new recommendations in BS7883:2005 for many aspects of installation and load testing which raise issues of how existing eyebolt installations should be examined and tested.
Frequency of Eyebolt Testing
Periodic eyebolt testings are required at intervals of no more than 12 months for fall arrest and 6 months for rope access. For anchor devices used infrequently they may be used if they have been examined within the last 12 (6) months.
Tests are to be carried out by a competent person defined as a "person who is knowledgeable in the current periodic examination requirements, recommendations and instructions issued by the manufacturer applicable to the relevant component, sub-system or system".
Eyebolt Testing should be carried out to the manufacturer's instructions. These should follow recommendations of BS 7883 and this is specified by documentation which is passed to the client on completion of the testing, installation and subsequent certification.
Different Eyebolt Safety Systems Explained
The key difference between a Fall Arrest/Fall Restraint System and a Rope Access/Work Positioning System  is the type of usage expected. The standard of installation is the same, but the inspection period is 12 months for a Fall Arrest installations and 6 months for Rope Access installations.
A 'Fall Arrest' eyebolt installation is to save the worker in the event of a fall from height on ONE occasion (after which it will be replaced in accordance with HSE and LOLER standards). These would be used by, for example, by window cleaners accessing the window from the inside.
Rope Access/Work Positioning Systems are in place for works to be carried out using ropes attached to these eyebolt systems, to enable them to carry out regular work. 
What Makes a
Safe Eyebolt Installation
There are strict standards (BS EN795 and BS 7883:2005) applicable to eyebolt installations.
Eyebolts can be installed directly into brickwork, concrete, masonry or steelwork and the anchor systems used for eyebolt installations will vary for each structure. The eyebolts themselves, along with the anchor systems, can be made from galvanized, powder coated or stainless steel materials.
If eyebolts are already installed, periodic examination is an essential and legal requirement.
If the eyebolts installed are for rope access use, they will need to be tested every 6 months; if the eyebolt system is for Fall Arrest, they must be tested every 12 months.
Periodic Examination & Pull Testing of Existing Eyebolts
All eyebolts should be marked in accordance to the relevant British Standards and the PPE Directives.
They should have a label attached, indicating the date of the next examination, category of use and any other detail required by that category of use.
You should be provided with a Certificate of Periodic Examination.
Any aspects of an existing system that do not comply with the requirements, will be recorded in detail and a report issued to the clients stating which eyebolts may remain in use, and those which should be withdrawn together with reasons and recommendations for remedial action.