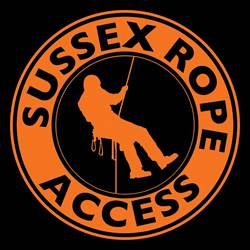 Eyebolt Anchors – Approved Types
The area of safety eyebolts can be unclear as to the requirements of the Personal Protective Equipment (PPE) Directive.
In short, all the component elements of an anchor device will be CE marked (except the resin) although only the eyebolt will usually carry the mark itself.
Lifting eyes, even if CE marked, should not be used for Fall Arrest or Rope Access.
Call us today on 0800 1588 318
Safety Eyebolts – The Different Types
Concrete Eyebolts
For a concrete eyebolt the only effective choice is a "Resin socket" type. i.e. an eyebolt screwed into a socket set in resin.
The standard combination is "100mm eyebolt" in "100mm socket" (Actual dimensions may vary slightly from these – an eyebolt is typically 95mm and socket 104mm, depending on the manufacturer).
The strength of concrete is such that all reasonable concrete will be strong enough as long as the installation is made properly.
We always perform trial tests especially in areas such as concrete chimneys or cooling towers suffering obvious deterioration.
The only resin system approved by the major manufacturers for use in concrete is the capsule system.
Solid Brickwork Eyebolts
If correctly installed in strong brickwork with sound mortar joints an approved resin/socket system will be perfectly strong enough. However most solid brickwork constructions were built before 1935 and in some parts of the country bricks are very soft and mortar joints weak and/or badly weathered. In such cases trial tests must be carried out.
The first indication of the strength of old brickwork or stonework will be the way it drills. Anchorage into the remote leaf is important.
Where brickwork is weak and unable to satisfy the requirements of the trial tests then a through fixing with a large, thick back plate may be considered although we rarely come across this.
Cavity Brickwork Eyebolts
For cavity brickwork a through fixing is effectively the only option allowed by the standard.
An anticompression tube is needed to prevent the cavity from collapsing when the nut is tightened either on first installation or at subsequent periodic examinations. We only use this where the direction of pull is predominantly shear – the remote, single, leaf will not withstand a direct tensile pull.
Eyebolt Finishes - Different Types
Eyebolts are available in the following finishes: Galvanised carbon steel, Galvanised carbon steel with white plastic coating and stainless steel.
Galvanised finishes are usually specified internally for premises where the appearance is not important and white plastic coating where it is. Stainless steel for external use.
Sockets are generally available in either unplated carbon steel or stainless steel.
Accessories such as threaded rod, Back plates and threaded couplers are available in zinc plated steel, galvanised steel or stainless steel.
Galvanised carbon steel components are suitable for long term use in dry internal conditions but will have reduced life expectancy in external areas.
We check manufacturers life expectancy for the various combinations used in the relevant exposure conditions. Due to the difficulty of protecting unplated carbon steel components such as sockets we do not use them in external applications.
Masonry Eyebolts - Generally
Anchor devices should not be installed in load bearing solid masonry less than 225mm thick.
For solid i.e. 9″ solid brickwork (no cavity) the only real choice is a "Resin socket" type. Again, the standard combination is "100mm eyebolt" in "100mm socket".
The delivery of the resin into the hole is by resin capsule – as far as the primary approved systems are concerned.
For voided structures including frogged bricks and poorly filled mortar joints an injection system may be necessary.
Eyebolts for Solid Stonework
Solid Stonework should be treated as being similar to solid brickwork, with resin sockets will be the first choice.
In old constructions the external stones may vary in thickness and internal leaf may be brickwork. Some constructions have rubble infill between inner and outer leaves which will have very little strength, and in these cases a through fixing as above may be the solution.
Trial tests will be carried out if there is any doubt about the strength of a particular system.
Eyebolts for Timber
Situations when anchor devices my be required to be fixed to timber include roof work, fixings to floor joists when no alternative structure is available, and fixing to the structure of a mansard roof, usually made entirely of timber.
Kee Safety Ltd make a series of clamped anchor devices for fixing to timber under the names Ridganka, Roofanka and Postanka.
Ridgankas are made in various versions and all Kee Safety anchor devices for timber should be installed only into structures that have been checked as being suitable by a structural engineer whose advice should be confirmed in writing.