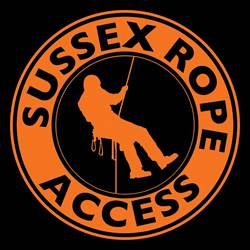 High Access Solutions in London & the South East.
Sussex Rope Access originated in Sussex, but nowadays, most of our clients are actually in London!
The reason is simple. We're specialists in working at height and London simply has more tall buildings than anywhere else in the UK; commercial abseiling is the most versatile, cost effective and non-disruptive solution to building maintenance on these buildings and structures.
With 27 years in the industry, we're here to stay, and this is reflected in our client feedback, referrals and repeat business.
Call us today on 0800 1588 318
Related Building Services
Commercial Window Cleaning
Our IRATA certified rope access window cleaning team can wash the windows high up on your building safely, efficiently and cost effectively. We'll be safely anchored into the roof using eyebolt anchor points as required and quickly descend down your building, washing every window you have on every level, using safe rope access techniques.
Brick Repointing
We handle all aspects of brickwork repairs and masonry repairs, including brick pointing and repointing, tuck pointing, lime mortar pointing or any other material. Our team of abseilers are experienced construction workers, first and foremost. We can repair or repoint brickwork in the most out of reach areas but are also happy to carry out works on lower levels.
Plastering and Rendering
We can plaster new walls, fix cracks, or the moulding of windows and sills, both inside and out It's important that your business continues as usual while repairs are carried out and when you employ rope access for your plastering and rendering, our abseilers will access the ceilings, roofs, walls, and alcoves of your building so that the plastering can be done efficiently and with substantial cost benefits.
Exterior Building Cleaning
Cleaning the build up of dust, dirt and soil cannot be underestimated in the maintenance of a building. It is not only about the visible appearance but more importantly, it can prevent the resulting ageing process of the structure. Rope Access offers a cost effective, non disruptive and eco friendly  alternative to cleaning your building. Exterior building cleaning is often put off due to the requirement of expensive permits to block off streets/pavements and parking spaces with large equipment. Sussex Rope Access is contracted in to clean and provide a maintenance regime to many local council buildings  (schools and fire/police stations), listed buildings, lighthouses, residential buildings, bridges and high rise offices.
Gutter Repairs and Cleaning
Gutters are seldom in the most convenient places of a building. They are up high, in hard to reach corners and are simply a pain to get cleaned. But they still need to be maintained debris-free and we can help make it pain-free. Our team of gutter cleaning abseilers can get in, access the problem, and quickly correct it before other problems arise.
A Gallery of Our Work
Photographs of some of the Projects we've worked on
See More
Frequently Asked Questions
How Rope Access Can Help Your Building Maintenance
Read More
Articles We've Written
Topics of Interest to the Rope Access Community
Read Now
Bird Proofing
Birds settling and nesting can be a nuisance to your building. It is not only the unsightly mess that  they can leave on window sills, ledges, signage and lighting but also the risk of damage to the structure of your building and to cables and wiring. Our team of specialist abseilers can install bird deterrents such as exclusion netting and bird spikes to even the most out of reach areas.